BPZMAG here & welcome to our first ever official Doc's Kids website! I plan to keep you regularly updated so check back often. We'd especially like to thank Jason @ Jason Narverud Photography for all the McSteamy photos he took for the new album & his assistance with creating this website! We're privileged to bask in such a talent as him. A warm thanks & loving embrace to Bonnie M. Weske @ BMWdesign for her vision & spot-on accuracy while designing our new album cover, jacket design, & clever shower-head logo. Very well done & we couldn't be happier! Summer Thorson @ Thorson Graphics took care of our super-soft & well-designed t-shirts! I also want to thank my partner-in-crime, j.bell, for his time, dedication, & passion during the recording, producing & mixing process. I'd be lying if I wouldn't say I am super impressed with how he's matured into a mighty fine producer in his own right. And what a musician! He played & sang EVERYTHING except for my trombones, vocals, & some percussion parts. The man is a genius behind a guitar or in front of a mixing board & I'm so happy he's allowed me to be one of his songwriting partners. j.bell & I are also in a band called j.bell & the Lazy Susan Band. We'll be playing mostly originals in the "Americana Rock" genre @ the Driftwood Char Bar on 11/4.
We are so proud & excited to present to you our new album, Songs You Sing In The Shower.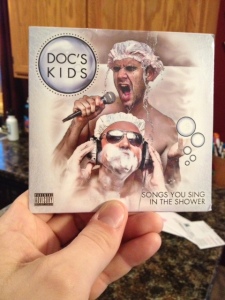 We started writing new tunes on a road trip to Kansas City in late summer, 2012. I had completed my obligatory Morrissey meat cleanse for a year & I had a hankerin' for some BBQ. Plus, my doctor   reported that while I was vegetarian, my cholesterol shot up 23 points. So what better place to drive to than "good old K.C."? Arthur Bryant's was kind enough to let us in & indulge on some of the finest burnt ends ever created. They even asked if we'd send them a recording of our song Destination: Pile Of Meat or a video so stay tuned…
I partially wrote at least 3 of the songs from this album while taking shower. I'd hop out of the shower naked & run to my phone to record the melody or lyrics that I was singing. My wife & shih tzu thought I was crazy, but it worked! I took these ideas to the studio where j.bell sprinkled magic potion (gin or rum) over the ideas & they came out as actual songs! Our next album just might be called: "The Lawn Songs", as mowing the lawn is also a source of songwriting inspiration for me. Must be the rhythm of the blades!
We hope to see some familiar and new faces on Sat. Oct. 18 @ Lee's Liquor Lounge. Doc's Kids is opening up the night at 8:30pm & are warming up the stage for fellow Twin Cities bands: Whale in the Thames & Lovers on the Balcony. Bring your shower caps & let's get ready to rock!!!
Read More